Andy Carvin
reported.ly (via Skype)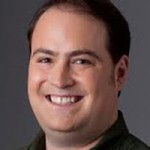 Andy Carvin is the head of reported.ly, the global reporting team at First Look Media.
He was previously senior social media strategist at National Public Radio and a fellow at the Tow Center for Digital Journalism at the Columbia University Journalism School in New York. He first came to wider prominence by covering the Tunisian revolution on Twitter in late 2010. He developed a large following on Twitter which came to rely on his tweets and retweets of news and information regarding the uprisings across the Middle East. His curation of Twitter feeds, as well as his expertise in the verification of news coming through social media, have made him a major figure in journalism worldwide. In April 2011 the Columbia Journalism Review described Carvin as a "living, breathing real-time verification system" and suggested his might be the best Twitter account to follow in the world while The Washington Post called him "a one-man Twitter news bureau". He was profiled in The Guardian in September 2011 as "the man who tweets revolutions".
He was a recipient in July 2011 of the Journalism Awards: Special Distinction Award, Knight-Batten Award for Innovation for his Twitter reporting. He subsequently donated the iPhone he used to tweet during the Arab Spring to the American History Museum.
He is the author of Distant Witness (2013).
Andy Carvin will speak at the following events:
---