Jakob Moll
co-founder and CEO Zetland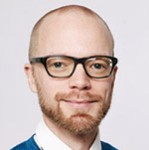 Jakob Moll is the founding partner (in 2012) and CEO of Danish media company Zetland.
Zetland is a leading innovator of digital and analogue journalism in Europe. It was the first European publisher to market original longform journalism in the e-single-format. Furthermore, it has been at the forefront of the live-journalism-movement, filling major venues in Denmark (including The Royal Theatre in Copenhagen).
Prior to founding Zetland Jakob worked in Danish mainstream media.
Jakob Moll will speak at the following events:
---