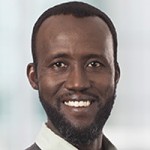 Alex Jakana is a program officer for Global Media Partnerships at the Bill & Melinda Gates Foundation. In this role, Alex helps set up media partnerships for the foundation as well as manage a portfolio of media investments in support of the foundation's global health and development goals in Africa, India, China, Europe and the US.
Before joining the foundation, Alex was Executive Producer editorial partnerships at the BBC in London. He was responsible for designing a coherent strategy for sustainable editorial relationships across Africa and established bespoke editorial relationships between the BBC and chosen affiliates on the continent. This was the culmination of an eighteen-year long career as an international multimedia journalist. During his time at the BBC, he also presented several of the BBC's African news and current affairs programmes on radio and TV including BBC Africa debate, the award-winning Africa Have Your Say, World Have Your Say, Focus on Africa and Network Africa.
Alex also worked for three different radio stations in Uganda between 1997 and 2004. A passionate advocate of collaboration, Alex is a firm believer in the power of partnership.