Antoine Kaburahe
founder and editor Iwacu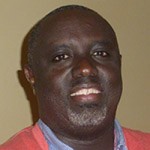 Antoine Kaburahe is a journalist and author.
Entering journalism with the democratization of Burundi in 1992, he first worked for the National Radio but resigned in 1996 to work for the first independent radio in Burundi. He then joined an independent newspaper. Threatened in 1997, he fled into exile where he remained actively involved in journalism. He returned to Burundi in 2007 and launched Iwacu, an independent press group, the only independent media operating in Burundi. He currently lives in exile in Belgium.
For further information please see the 2016 interview of Antoine in Le Monde.