Isabel Hummel
editor Funk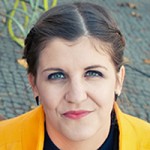 Isabel Hummel is an editor at funk/ZDF, a new multi-platform content network for 14-29 year-olds, launched in October 2106 by public broadcasters ARD and ZDF. It now features a portfolio of over 60 formats.
Prior to funk, Isabel researched and tested how Germany's biggest national news show Die Tagesschau can reach a younger audience, produced quite a lot of web documentaries and founded a female-centric podcast.
She's a firm believer that the packaging is as important as the content and that everything should be enjoyable - especially in online journalism.
Videos
IJF 2018
Isabel Hummel will speak at the following events:
---
Photos