Jim Schachter
vice president news WNYC Radio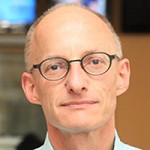 Jim Schachter is Vice President for News at WNYC, where he is responsible for an enterprise-focused radio and digital newsroom, as well as programs including On The Media, Studio 360, The Takeaway, The Brian Lehrer Show, The Leonard Lopate Show. He also leads development and production of a range of WNYC digital properties, such as the highly regarded narrative reporting podcasts There Goes the Neighborhood, The United States of Anxiety and The Season.
Coverage directed by Jim since he joined WNYC in 2012 has won the Peabody Award, the DuPont Award, the Sigma Delta Chi Award for Public Service, the National Headliner Award, the first-ever Corporation for Public Broadcasting Community Lifeline Award and numerous other journalism honors from national, state and local groups. During a period of contraction in the news industry, he has led a significant expansion of WNYC's staff and news services.
Before coming to WNYC, Jim worked at The New York Times for 17 years, rising to the position of associate managing editor after serving as a senior editor in the business and culture departments and at The New York Times Magazine. Earlier he was a reporter or editor for the Los Angeles Times, the Kansas City Star and the Jacksonville Journal.  He is a board member of The Texas Tribune. Jim and his wife, Pamela, live in Summit, N.J. They have four children.