Ricarda Messner
founder Flaneur Magazine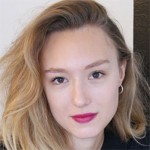 Born and raised in Berlin, Ricarda Messner completed her degree in Communication at the Berlin University of Arts in 2011. In addition to her studies, she gained experience in various disciplines - from writing for a German daily newspaper (Berliner Morgenpost), working at art galleries and magazines to PR work in the cultural field.
The Berlin native felt it necessary to leave town for a while, broaden her horizon in New York to then re-discover her hometown upon her return in late 2011. This led to Ricarda's first and very personal project: Flaneur Magazine. She put together the team behind the magazine and took her first steps in the world of publishing. Soon it became clear to her what she enjoyed most: the creative process of turning ideas into actual endeavors.
Ricarda will continue on this path and is currently in the process of starting her own publishing house for other print projects. She is also working on developing concept and branding ideas for others.
Videos
IJF 2015
Ricarda Messner will speak at the following events:
---