Sakhr Al-Makhadhi
Middle East editor AJ+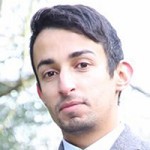 Sakhr Al-Makhadhi is Middle East Editor and Acting Executive Producer at AJ+, leading a team that produces some of the most-viewed news videos on the internet.
In 2012, he won the EU's Anna Lindh Mediterranean Journalist Award for his coverage of Syria on the BBC Radio 2 Jeremy Vine Show. And he was nominated for a 2015 One World Media Award for his BBC World Service report on the political party that wants an Islamic state in Britain.
Sakhr has reported from Lebanon and Jordan for the flagship BBC World Service foreign affairs programme From Our Own Correspondent. He's also been a regular face on BBC television.
Sakhr has been published by Foreign Policy, The Guardian, Al Jazeera, Channel 4 News and The National. He is a former ITN radio newsreader and reporter. He launched one of the first Syria blogs in 2005, and travelled between London and Damascus regularly until the start of the uprising.