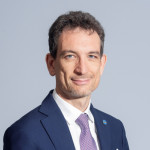 Salvatore Bernabei ha iniziato a lavorare in Enel nel 1999 come logistics manager per Enel Distribuzione e, successivamente, come supply chain manager, project manager e contract manager per progetti geotermici ed eolici in Italia. Più tardi ha ricoperto vari ruoli manageriali in Enel Green Power nell'ambito dell'Engineering & Construction, nonché di Safety&Environment in Iberia, America Latina ed Europa. Dopo una parentesi come responsabile di Operation & Maintenance delle Rinnovabili in Iberia, è stato nominato country manager del Cile e dei Paesi Andini per Enel Green Power e, successivamente, responsabile delle energie rinnovabili in America Latina. Da maggio 2017 a settembre 2020 è stato head of global procurement del gruppo.
Bernabei si è laureato presso l'Università di Roma Tor Vergata in Ingegneria Gestionale e ha scritto la sua tesi finale presso l'Università Politecnica della Catalogna. Ha completato un master in Net Business Administration presso il Politecnico di Milano e ha partecipato all'INSEAD International Executive Programme a Singapore e Parigi, nonché al Leadership for Energy Management Programme presso la SDA Bocconi School of Management (Milano) e la IESE Business School di Barcellona.
Bernabei è sposato e ha due figlie. È un atleta di triathlon, un tifoso della Roma e un appassionato di rugby. Gli piace leggere libri di storia, economia e geopolitica.
Events in past editions