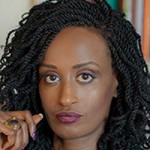 Leyla Hussein is a psychotherapist specialising in supporting survivors of sexual abuse. She is an international lecturer on female genital mutilation (FGM) and global speaker on gender rights. She is recognised as one of the key experts on this issue globally and her work has been presented at Oxford, Cambridge, UCL, Leeds, Exeter, Coventry University, International School of Geneva and many Ivy League faculties in the USA including Columbia, Harvard, Georgetown, George Washington and Pennsylvania University. Her current project with The Girl Generation focuses on the importance of the emotional wellbeing of activists and humanatarians working in stressful environments. She has now shared this approach through consultations with the UN, WHO and recently presented the success of its impact at the ICPD summit in Nairobi.
Leyla was awarded an Honorary Doctorate by West London University where she been an associate professor since September 2018. She is a leading and award-winning international campaigner against female genital mutilation (FGM) and her passion is to create safe spaces for women and girls. Leyla founded The Dahlia Project, the UK's first specialist therapeutic service for FGM survivors, and co-founded anti-FGM charity Daughters of Eve. She created the ground-breaking Face of Defiance project which is a series of photographic portraits and interviews with FGM survivors. She is currently a strategic advisor and global ambassador for The Girl Generation movement, working to end FGM globally.
The documentary she presented, entitled The Cruel Cut, was nominated for a Bafta. Leyla was named Cosmopolitan Campaigner of the Year 2010 and she was included in the BBC 100 Women List in 2013, Woman's Hour Power List 2014 and Debretts 500 as one of the UK's most influential people. She was awarded the Freedom Borough Award from Walthamstow Borough Council in April 2018.
As a writer, Leyla has been published in national and international media and she regularly appears in both print and broadcast as an expert commentator on women's rights and health with regular articles published in The Guardian, Cosmopolitan and The Huffington Post as well as blogs in Newsweek, Mumsnet, Stylist magazine, The New York Times, Sisterhood magazine and The Washington Post.
In 2019, Leyla was appointed Officer of the Order of the British Empire (OBE) in the 2019 Birthday Honours for her work in tackling female gender mutilation and gender equality.