Ruben Bouwmeester
innovation manager Deutsche Welle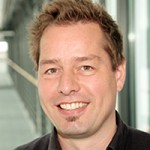 Ruben Bouwmeester works for Germany's international broadcaster Deutsche Welle in the research and innovation projects unit.
In his role as Innovation Manager he participates in European research projects, with a focus on developing new tools for the newsroom. These projects include REVEAL and InVID, both aiming at the part-automation of and support for user-generated content verification tasks. Ruben also trains journalists in how to handle and verify UGC.
Ruben is furthermore project manager and product owner of Truly Media, an online collaboration platform that is to support the aggregation, curation and verification of UGC. Truly Media is jointly developed by DW Innovation and ATC iLab, to be released soon. It is supported with funds of the Google DNI grant.