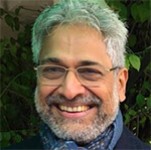 Siddharth Varadarajan is Founder-Editor of The Wire. Founded in 2015, The Wire is India's largest independent digital news and analysis platform with a reputation for investigative reporting and incisive coverage of events in India.
He was earlier Editor of The Hindu, a multi-edition newspaper that has the second-highest circulation among India's English dailies.
As a reporter, he has covered nuclear issues, NATO intervention in the Balkans as well as the conflict in Kashmir, the Iraq War, and the destruction of Afghanistan's pre-Islamic heritage by the Taliban. He joined the Times of India as an editorial writer in 1994, following many years of teaching economics at New York University.
In 2017, he was a recipient of the Shorenstein Journalism Award for his work to defend free media in India. He has also been awarded the Bernardo O'Higgins Order by the President of Chile for journalism and promoting Indo-Latin American relations.
He is the author of the book, Gujarat: The Making of a Tragedy (Penguin, 2002) and co-author of Non-Alignment 2.0: A Foreign and Strategic Policy for India in the 21st Century (Penguin, 2013).
Varadarajan has taught at the Graduate School of Journalism, University of California, Berkeley and been a Poynter Media Fellow at Yale University, besides being a senior fellow at the Centre for Public Affairs and Critical Theory, Shiv Nadar University, India.