#ijf17 day by day: Thursday 6 April
6 April 2017
We invite you to check out the full festival programme on the website, but to provide a taster we have prepared the following brief overview. By clicking on +info► you can link to full details of each session, and then add it if you wish to your personal festival day-by-day agenda on your computer or smartphone.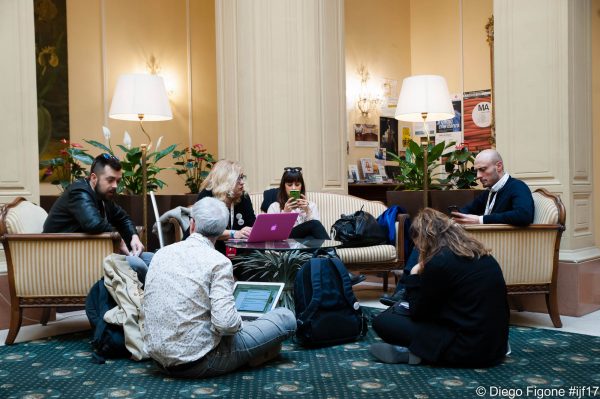 09:30 – 10:45 > Hotel Brufani – Sala Raffaello | panel-discussion
'Fake news' and the misinformation ecosystem +info►
'Fake news' and the misinformation ecosystem: how can newsrooms work with social networks to help solve this problem? This panel will explore the current debates about the 'fake news' debate, examining the technical and human powered solutions that have been implemented over the past six months. What's working? What's not? Organised in association with First Draft News.
09:30 – 10:45 > Sala delle Colonne, Palazzo Graziani | panel-discussion
Collaborating with algorithms +info►
Some journalists approach algorithmic assistance the way one might consider hopping into a self-driving car: some are delighted, some are wary. How can software assist reporting, and how might a novice get started?
10:15 – 11:00 > Palazzo Sorbello | in-conversation
Postcards from Guantanamo +info►
After the end of the Obama presidency, the detention camp at Guantanamo Bay remains standing. Trump has declared his intention to intensify the use of torture and promote the practice of waterboarding as the best possible way of fighting terrorism. The session will take as its starting point the book of Laura Silvia Battaglia, Lettere da Guantanamo (Il Reportage, 2016).
10:45 – 11:45 > Sala del Dottorato | panel-discussion
Reporting emerging authoritarianism +info►
Over a hundred journalists jailed in Turkey by Erdogan. Opposition newspapers closed illegally in Orban's Hungary. This panel seeks to start a discussion on the what of emerging authoritarianism (What should we look out for, those events which first define an emerging authoritarian state?) and the how of reporting it (How do we respond as journalists to those events?).
10:45 – 11:45 > Centro Servizi G. Alessi | in-conversation
A new era of information warfare +info►
A new era of information warfare: the DNC, the Podesta mails, Sony Pictures, etc. State-sponsored hacking and leaking and what it means for journalism. "Strategic leaking" by states and intelligence services (as opposed to whistleblowers) – and the many practical and ethical questions which this poses for journalism and media. How do we cope with this new kind of information warfare, what is our role in it, what are our duties – and are there any best practises yet?
11:45 – 13:00 > Centro Servizi G. Alessi | panel-discussion
How digital can save journalism in the Middle East and Arab World +info►
Not everything that's digital is online, so why is it so hard for the journalism industry (especially in the Middle East) to realise that not everything that's online is digital. Digital can help us strip journalism bare of all the connotations of its previous mediums and bring it back to its core; a value added. The digital medium allows you to explore more complex issues and find innovative, immersive ways to share these issues with your audience.
11:45 – 13:00 > Hotel Brufani – Sala Raffaello | in-conversation
Trump: the Kremlin candidate? +info►
Russian investigative journalist Andrei Soldatov and BBC Panorama reporter John Sweeney assess the evidence that the man in the White House may have got there thanks to the man in the Kremlin. The Donald and Vladimir: nothing to see here? Or are the Russians winning the Cold War thanks to five goals in injury time? The session will begin with a screening of John Sweeney's documentary Trump: the Kremlin Candidate? In English with Russian subtitles.
12:00 – 13:00 > Palazzo Sorbello | panel-discussion
Fact-checking on TV: the importance of format +info►
What makes fact-checking work on TV? TV authors should work on creating a real format with precise rules. How can we be sure that it is still relevant when the plot changes? We will speak about fact-checking as a separate segment in a programme. And we will speak about fact-checking as a programme itself. Doing it well on TV is as important as doing it at all to provide viewers with precise information.
14:00 – 15:00 > Sala del Dottorato | in-conversation
Women on the front line in the fight for freedom of expression +info►
Maryam Al-Khawaja is an activist who had a leading role in the 2011 democracy protests in Pearl Square, Bahrain. While she was returning to her country she was attacked and imprisoned for 19 days, and then forced into exile. Khadija Ismayilova is an Azerbaijan journalist who was intimidated and blackmailed, arrested and convicted to seven years in jail in 2015, for covering news about the family of President Aliyev. Thanks to an international mobilization of colleagues – including Miranda Patrucic – and activists, she was freed. Khadija is currently under a travel ban and cannot leave Azerbaijan. She will participate via Skype. This session will be moderated by Marina Petrillo.
14:00 – 15:00 > Hotel Sangallo | panel-discussion
Media and information literacy +info►
At the time when manipulation and dis-information is an increasing threat, helping citizens learn how to identify and access independent information sources is a priority. During the panel discussion media researchers and professionals will show effective ways to empower people through Media and Information Literacy (MIL) and demonstrate that it is an important prerequisite for fostering equitable access to information and knowledge and for promoting free, independent, and pluralistic media and information systems. Organised in association with IREX Europe.
15:00 – 16:00 > Sala dei Notari | in-conversation
The Last Men in Aleppo. With Firas Fayyad +info►
Interview of Firas Fayyad, director of the Sundance-winning film The Last Men in Aleppo. Clips of the documentary will be shown. The Last Men in Aleppo was filmed on the streets of Aleppo, now completely devastated by the civil war. The documentary premiered at the 2017 Sundance Film Festival, and follows the heroic rescue work of the White Helmets. Fayyad experienced the worst of the Assad regime: imprisoned in November 2011, he was tortured for months and now lives in exile. He will be interviewed by Maria Gianniti.
15:00 – 16:30 > Hotel Sangallo | presentations
Lightning talks by RISJ fellows +info►
Thirteen fellows from the Reuters Institute for the Study of Journalism at Oxford University – from Poland, Austria, Finland, China, Korea, Japan, Kenya, India, Russia – will present their research on media and democracy, robots, video and mobile, information and health, freedom of information, the economy, news agencies and TV journalists' safety in hazardous areas, the role of social media, investigative journalism, open data and more. Each speaker will have 5 minutes to outline his/her research.
15:00 – 16:00 > Sala del Dottorato | panel-discussion
Investigative journalism in Africa: the case of Insight TWI +info►
There is a great school of investigative journalism in Africa, consisting of journalists, photojournalists, African and Western video-makers who operate in the areas of which they have deep knowledge gained over many years. The Insight TWI team, of which Anas Aremeyaw Anas (a speaker at the 2016 International Journalism Festival) is also a member, produced the Africa Investigates series in collaboration with Al Jazeera. Ron McCullagh, BBC veteran and founder of Insight TWI, and Sorious Samura, star reporter for Insight TWI, will speak about investigative journalism in Africa, and its impact and descriptive power.
15:15 – 16:30 > Centro Servizi G. Alessi | panel-discussion
Do not call it a crime of passion +info►
The panel will address the challenges presented to the media covering male violence against women, and especially femicide (the killing of a woman because she is a woman). Looking at data and examples from both the UK and Italy, journalists and women's rights experts will discuss the sexist bias often hidden within mainstream news narratives and debate the potential role of the media in reshaping traditional perceptions of gender-based violence and catalyze a cultural shift in society.
15:15 – 16:15 > Sala delle Colonne, Palazzo Graziani | panel-discussion
Internet memes: misinformation machines or vectors of truth? +info►
2016 was a year of memes in Western politics, from #CatsAgainstBrexit to Pepe the Frog to #NastyWomen, as meme shells, GIFs and selfies enter the political vernacular. How can journalists work with memes effectively? What are the dangers endemic to this media form? We'll hear from a variety of perspectives, including memes in misinformation ecosystems, the visual role of memes, the journalistic value of discussing memes, and how activists wield memes for social change.
16:00 – 17:00 > Sala del Dottorato | panel-discussion
How to report on lying media-bullying populists? +info►
16:00 – 17:00 > Hotel Brufani – Sala Perugino | panel-discussion
The media startup journey: how to build a multi-million dollar company from scratch +info►
Adriano Farano founded Watchup in Silicon Valley in 2012 and sold it in a multi-million dollar deal to Plex in 2016. Mark Little founded Storyful in Dublin in 2009 and sold it in a multi-million euro deal to News Corp in 2013. What's the secret? Teamwork, timing, tangibles, talent? Find out with Adriano and Mark and Josh Young, who knows the high-octane start-up world from the inside.
16:15 – 17:30 > Sala delle Colonne, Palazzo Graziani | engagement
Reimagining local news for the digital age +info►
If all news is local, then how is the sector responding to the challenges of digital disruption? Hearing from a range of international experts, this panel will explore how local outlets are embracing new platforms, developing new forms of storytelling and defining audience engagement. Speakers will offer a number of important perspectives – and case studies – on the future of local news, an important social and journalistic issue that should concern us all.
16:30 – 17:30 > Hotel Sangallo | data-journalism-school
Not just cool graphs: data journalism for investigations +info►
Stop thinking of cool graphs when somebody mentions data journalism: European newsrooms and international organizations are increasingly using data as a core part of their investigative reporting.
16:30 – 17:30 > Centro Servizi G. Alessi | workshop
Amnesty International's Digital Verification Corps +info►
Verification, Collaboration and Community Engagement: Amnesty International's lessons from using Open Source Intelligence to monitor global human rights violations and train the next generation of researchers. This session will take a hands-on approach to show some of the project's successes and lessons learnt, and underline how it is possible for a small organisations to simultaneously collaborate, build capacity and engage with communities to further their goals.
17:00 – 18:00 > Hotel Brufani – Sala Perugino | presentations
#Hacked: Al Jazeera's interactive news game on Syrian cyberwar +info►
In October 2016, Al Jazeera launched #Hacked – Syria's Electronic Armies. Following on from the award-winning Pirate Fishing – Interactive Investigation, #Hacked presents journalism in a game format and asks the user to investigate the Syrian cyber war whilst navigating hackers and viruses. Juliana Ruhfus will present #Hacked, touching on the Syrian cyberwar, the challenges of contacting hackers, and the idea of gamifying investigative journalism to reach new audiences.
17:00 – 18:00 > Sala del Dottorato | panel-discussion
Turkey: a black hole for journalists +info►
As monitored attentively at the Journalism Festival in the past years, a perfect storm had been brewing over the free word and independent media in Turkey. It erupted in full scale after the coup attempt in the summer last year, sweeping along the most of the journalism into the abyss. What are the lessons of the late Erdoğan era for the journalists in Europe and the rest of the world? Is the Turkish experiment contagious – or inspirational – for the other authoritarian leaders creeping into the domain of democracies? If there is still hope to rise up from the ruin under oppression, what solutions can Turkey's 'journalists in resistance' offer?
17:15 – 18:30 > Hotel Brufani – Sala Raffaello | panel-discussion
Will there be journalists in 2030? +info►
This debate is not about whether or not the problems of the business model for news will or will not have been solved by 2030. Fake news has generated many claims that journalism is more needed than it has ever been. But the threat of 'disintermediation' by digital technology has not gone away. Distribution of news by social networks has decoupled that distribution from the newsrooms which do the journalism. Anyone with a smartphone can bid to be a publisher. How do journalists justify their existence in this context? Will the historians of a 100 years from now think it odd that for several centuries there was a professional class which gathered and processed information about the world on our behalf?
18:00 – 19:00 > Sala del Dottorato | panel-discussion
Covering the end of the Islamic State? +info►
The Iraqi Army, with western military backing, is currently engaged in a fierce battle against the so-called Islamic State inside Iraq's second biggest city, Mosul. And the United States is right now deciding how to try and defeat the group in its Syrian stronghold of Raqqa. Could 2017 see the end of the 'Islamic State' as a power in the Middle East? Or how might the group, and its supporters in the region and beyond, respond? For journalists, covering the Islamic State and the territory it controls has long been immensely difficult – and now it seems only more dangerous. The panel speakers have unique experiences of reporting inside Iraq and Syria since 2011. How should the media understand the situation on the ground right now? What complexities in the picture are we failing to communicate to audiences?
18:30 – 19:30 > Hotel Brufani – Sala Raffaello | in-conversation
#netzwende: why Trump is the best thing to happen to journalism +info►
Trump is the best that could ever happen to journalism – because it is a wake-up call that has long been overdue. Considering this potential, VOCER takes the opportunity of hosting a panel discussion about the fallout of the US election: fake news, hate speech, non-profit newsrooms, atomization of the public, media populism, social bots, organic journalism.
…