Yoeri Albrecht
director De Balie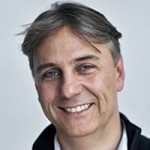 Yoeri Albrecht (1967) is director of De Balie, a national cultural debating centre and thinktank and incubator in the heart of Amsterdam. He is also non-executive director of the board of media house Vereniging Veronica (the owner among others of Het ANP, national news agency) and member of the board of Gieskes-Strijbis Foundation, a foundation which provides funds for culture, nature and democracy.
He is a longstanding journalist, opinion leader, television/radio maker and media advisor. The Volkskrant called him in 2012 and 2013 one of the 200 most influential Dutchmen. He is a regular political commentator at Public Radio 1. He was political editor for the weekly Vrij Nederland and has written for Elsevier, De Volkskrant, Neue Züricher Zeiting, TAZ and The New York Times. His documentary on the Palio of Siena won several international awards and was opening film at the International Documentary Festival Amsterdam (IDFA).
He has started think tanks and debating events like HappyChaos and Forum2020. He had his own late night television interview program with Theo van Gogh. His book artwork/book Underworld has been nominated for the Prix de Rome award. He served ten years on the board of the Stedelijk Museum Amsterdam (National Museum for Modern Art), was on the advisory board of The National Historical Museum and serves on the advisory board of the Rijksmuseum voor Oudheden at Leiden, and as chairman of the board of the Veerstichting Conference.
He is founder and board member of the European Press Prize Foundation, together with among others The Guardian Foundation, Reuters Foundation and JyllandsPosten/Politiken.
He has restyled the Leiden University Alumni Magazine and has acted as its chief editor. He has restyled the monthly magazine on human rights Wordt Vervolgd for Amnesty International and has acted as its chief editor. Currently he is the chairman of the supervisory board of the magazine.
Yoeri Albrecht holds a master's degree in history and a postgraduate degree in international law from Leiden University. He did a year of Art History at the Unversity of Florence; (cum laude). In addition he studied European Politics in Oxford. He has been conducting research and teaching European history at the University of Oxford in pursuit of his Ph.D. He is currently preparing a lecture series for the University of Oxford on the European Identity.