Alexander Fanta
Austrian Press Agency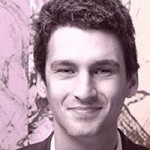 Alexander Fanta is a foreign affairs journalist and has reported from across Europe and the US, tracking elections, migration and the Eurozone debt crisis. Since 2011, he has worked as a staff writer at the 
Austrian Press Agency
 (APA), where his beat includes the OSCE and UN organizations in Vienna. He served as correspondent at the Brussels office around the time of the European Parliament election in 2014 and reported on the Iran nuclear agreement negotiations in Vienna.
Alexander published his first story in a local paper at the age of 18 and has been passionate about journalism ever since. While studying for a Master's degree in Political Science at the University of Vienna, completed in 2009, he built up a range of experience at different newspapers and magazines. Apart from his German-language work for APA, he also writes in English for Vienna-based Metropole magazine.
He is currently on a 2016-17 Fellowship at the Reuters Institute for the Study of Journalism, University of Oxford, where his field of research is Putting European Media's Robots on the Map.