Laban-Cliff Onserio
NTV Kenya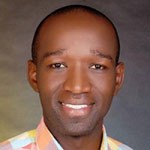 Laban-Cliff Onserio is a passionate business journalist with a mission to research, compile and present in-depth business news. He works as a business news anchor for NTV Kenya.
The 28-year-old began his career at General Electric (GE) Africa in 2011 where he served as a management trainee. After a short stint at the American conglomerate, Laban decided to take the plunge and pursue journalism, where his true passion lay. He also served at CNBC Africa as a reporter and researcher.
Laban's key career highlights include; the introduction of East African Voices, the region's first business documentary show that looks at doing business in Africa. He also produced a series on the World Economic Forum on Africa and the United Nations Conference on Trade and Development (UNCTAD).
He attended Strathmore University where he took a BA in commerce. He is an ongoing student of the Bloomberg Media Initiative on Africa Fellowship Program at the Strathmore Business School.
He describes his career driving force: "The Africa rising narrative has been refrained. Business journalism is at the epicenter of telling this growth story to the world and being at the front row seat of this renaissance, which is nothing short of making history."
He is currently on a 2016-17 Fellowship at the Reuters Institute for the Study of Journalism, University of Oxford, where his field of research is What do the UK and international media groups do on multi-platforms to cover business stories and how can the Nation Group improve their reporting techniques in light of this information?