Panu Karhunen
ISTV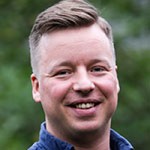 Panu Karhunen works as a news editor for ISTV, the web TV of Ilta-Sanomat, the biggest news site in Finland. Panu has been responsible for ISTV's daily news producing.
Panu started his career as a journalist in 2001. Since 2002 he has worked as a reporter and news editor for different newspapers in the Sanoma Company, mostly for the Ilta-Sanomat. He has experience of both printed newspapers and digital news sites.
In recent years Panu has taken part in the development of the web site of the Ilta-Sanomat. As a news editor at ISTV he has developed daily news videos, live broadcasts and off-site-videos on different social media channels.
Panu graduated from Sanoma Company's journalism school Sanoma Academy. Five trainee sessions in newspapers and magazines gave him experience of different styles of journalism.
He is currently on a 2016-17 Fellowship at the Reuters Institute for the Study of Journalism, University of Oxford, where his field of research is Mobile video journalism - could "one-man-bands" help journalism in the middle of the crisis?