Krzysztof Dzieciolowski
founder and CEO Vision House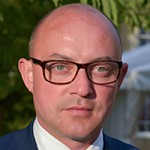 Krzysztof Dzieciolowski is an award-winning freelance journalist, film director and founder of Vision House, an independent media production company based in Warsaw, Poland.
Krzysztof spent his formative years as a journalist working in Poland, Ukraine and Belarus for a German press correspondent as well as for BBC News and the BBC World Service radio in London between 2002 and 2005.
Upon his return to native Poland he set up Vision House, a production company championing factual programming. Krzysztof led his team in the production of documentary series and films featured globally on BBC World and Al Jazeera. One of them - Rebellion - won the Best Journalism award from Newsweek Poland in 2014.
Krzysztof's news portfolio includes work with the BBC, Al Jazeera, CNN, CBC, NHK, RTE, ABC, SBS, The Guardian and many others.
As a field producer for Al Jazeera English Krzysztof has worked on the frontline of the Ukrainian conflict, he has covered Catalonian independence aspirations and refugee crisis; for the BBC he worked as a producer during the Ukrainian Orange Revolution of 2004, the death of John Paul II, EU enlargement and the 60th anniversary of the Auschwitz liberation. Krzysztof has worked with more than 500 foreign correspondents.
He was awarded a 2016-17 Fellowship at the Reuters Institute for the Study of Journalism, University of Oxford, where he wrote a paper entitled: Is there a chance for non-partisan media in Poland? He holds a Masters degree in Sociology from Warsaw University. Currently Krzysztof is a PhD candidate at the School of Journalism, Media and Cultural Studies, Cardiff University.