Maria Ramirez
Univision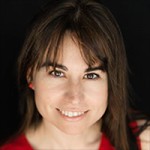 Maria Ramirez is a political reporter at Univision Communications. She is also the co-founder of El Espanol, the Spanish digital news publication which raised €3.6 million in its 2015 crowdfunding launch campaign. Previously she was Brussels (2005-11) and then US (2011-15) correspondent of the Spanish daily El Mundo.
Born and raised in Spain, she studied in the Liceo Italiano of Madrid, graduated in Journalism at the Columbia Journalism School in New York and completed her studies at the London School of Economics. She speaks Spanish, Italian, English and some French.
She is co-author with Eduardo Suárez of La carrera, a book about US politics, and created with Eduardo Suárez the media blog nohacefaltapapel.com.