Anna Babinets
editor OCCRP Ukraine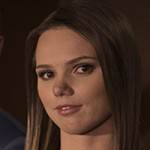 Anna Babinets is editor of the Organized Crime and Corruption Reporting Project (OCCRP) in Ukraine and co-founder (in 2012) with Dmytro Gnap of the investigative journalism agency Slidstvo.Info, a non-profit organization based in Kyiv which produces investigations (articles and TV-stories) about corruption in Ukraine.
Her most recent big project is as editor and journalist on the Panama Papers (PP) project (since July 2015). As an editor she prepared a variety of stories based on PP documents. As a journalist she contributed to the investigation about the offshore companies of Ukrainian president Petro Poroshenko. Her articles on the subject are linked here and here. She also made a TV report based on the PP documents.
One of the biggest projects in her career was YanukovychLeaks, about which she made the documentary Newsroom Mezhyhirya: The story of YanukovychLeaks.
She also worked as a reporter for Hromadske.TV during the revolution in Ukraine in the winter of 2013-2014.
During 8 years working as an investigative journalist she has also focused on the subject of Ukrainian military officials who during the war with Russia cooperated with Russia or worked against Ukraine (2014 -2015): the first part of her TV report can be seen here, the second part here.