Cameron Barr
managing editor The Washington Post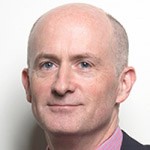 Cameron Barr has been a managing editor at The Washington Post since 2015, overseeing the organization's eight news and features departments.
Since joining The Post in 2004, he has been a Metro reporter, Middle East editor, National Security editor and National editor. In the last of those roles, he helped direct The Post's award-winning investigations of U.S. police shootings, the hidden lapses of the U.S. Secret Service, and the reach of U.S. government surveillance, based on the revelations of Edward Snowden.
Cameron Barr spent almost 15 years at The Christian Science Monitor, primarily as a foreign correspondent based in Tokyo and Jerusalem. He has won Overseas Press Club and Sigma Delta Chi awards, was a co-winner of the National Magazine Award and was a finalist for the Pulitzer Prize in 2003 for his coverage of the Israeli-Palestinian conflict.
He lives in Washington, DC, with his partner, Shar Taylor, and his two teenage daughters.