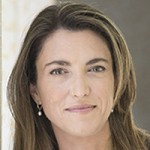 Patrícia Campos Mello is an editor-at-large and columnist at Folha de São Paulo newspaper and a commentator at TV Cultura. For over 20 years, she has been covering international relations, economics and human rights, and has reported from over 50 countries. She has been awarded the International Press Freedom Award of the Committee to Protect Journalists in 2019; the Vladimir Herzog Special Award for Democracy and Justice in 2019, the International Committee of the Red Cross Prize for humanitarian journalism in 2017, the King of Spain Journalism Prize in 2018, Petrobras Prize (2018 and 2017, main award in Brazil), Folha and Estado Prizes.
She was the Washington correspondent for the Estado de S. Paulo newspaper between 2006 and 2010. She covered the economic crisis in the USA, and the 2008, 2012 and 2016 elections; the war in Afghanistan in 2009, and interviewed President George W. Bush in the White House. She covered the 9/11 attacks in New York in 2001. Patrícia has a degree in Journalism from the University of São Paulo (USP) and a Master's in Business and Economic Reporting from New York University, where she received a university scholarship. She is a fellow at the Brazilian Council for International Relations (Cebri). In the last few years, she has spent time in Syria, Iraq, Libya, Turkey. Lebanon and Kenya reporting on refugees, and she was responsible for the project Mundo de Muros (World of Walls) that depicts the migration crisis on four continents. She was the only Brazilian reporter to cover the Ebola epidemic in Sierra Leone, in 2014 and 2015.
In 2018 and 2019, she published a series of stories about illegal use of WhatsApp mass messaging to send fake news and propaganda to manipulate public opinion during the Brazilian electoral campaign, with illegal financing from businessmen and use of foreign marketing agencies, and other disinformation strategies. The series led to three investigations, which are ongoing. In October 2019, for the first time, WhatsApp admitted to the illicit use of the platform in the 2018 elections. President Bolsonaro sued Patricia, demanding that she disclose all the sources in the stories, and he lost the lawsuit. She was victim of an initimidation campaign by Bolsonaro supporters, inflated by bots, and received threats against her and her son over the phone and in person.
In February 2016, she published a special reporting series about the zika and microcephaly outbreak in one of the poorest regions in Brazil. She has reported about surrogacy, rape victims, elections and threats against Muslims in India; efforts to eradicate hunger and the persecution of albino people in Tanzania; people who were displaced by big mining projects in Mozambique. Previously, she was a reporter for the publications Valor Econômico and Gazeta Mercantil, working as a correspondent in Germany in 1999. She speaks fluent English, German and Spanish. In 2017 she published her book Lua de Mel em Kobane (Honeymoon in Kobane) with Companhia das Letras, in which she tells the story of the war against Islamic State in Syria through the eyes of a refugee couple that she met there. She is the mother of seven-year-old Manuel.