Fergus Bell
founder Dig Deeper Media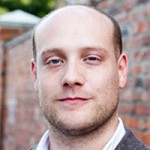 Fergus Bell is an experienced journalist, editor and leading expert in digital newsgathering and the verification of user-generated content. He is also the founder of news consultancy Dig Deeper Media.
Fergus has worked across the business and editorial sides of the news industry, previously heading up newsroom partnerships and innovation for digital newsgathering start-up, SAM Desk, and before that as International Social Media and UGC Editor for the Associated Press.
Fergus is a prominent advocate for higher industry standards relating to the ethical uses of UGC and social media. In October 2013 he co-founded a committee for the Online News Association that has brought together leaders in the journalism community to explore the ethics and standards of UGC and digital newsgathering for the news industry. He is also founding member of the First Draft News coalition of UGC experts supported by the Google News Lab. Fergus is a graduate of the University of Leeds.
Videos
IJF 2018
IJF 2017
IJF 2016
IJF 2015
IJF 2014
Photos