Inga Thordar
executive editor CNN Digital International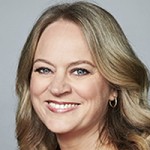 Inga Thordar is Executive Editor, CNN Digital Intnernational.
She was previously BBC's editor on World News Television bringing together TV and digital production teams and commissioning. Thordar edited the BBC's news front page as well as lead digital innovations on both TV and radio platforms. Prior to that, she lead a team of video journalists at the BBC who used the latest technology available to create innovative quality videos for digital and TV properties.
An Iceland native, Thordar is based in London and a graduate of King's College London and the University of Iceland.
Videos
IJF 2018
Inga Thordar will speak at the following events:
---
---
---
Photos