Elisabetta Tola
media training specialist Google News Lab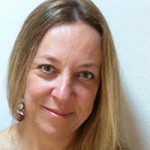 Elisabetta Tola ia a journalist and science communicator. She lectures in data journalism, science communication and multimedia at the Masters in Science Communication at Sissa, Trieste and other journalism schools.
Co-founder of the science communication agency Formicablu, founder of datajournalism.it, a web lab for data-driven stories and tutorials. and radio presenter of the daily science programme Radio3Scienza on RAI Radio 3 and of the weekly tech&digital innovation programme Pensatech at Radio Città del Capo, Elisabetta is also a freelance contributor for Wired Italy, RaiExpo, L'Espresso and other science&tech media and for the Italian publisher Zanichelli.
Elisabetta is the author of Seedversity.org, a crossmedial project on agrobiodiversity supported by the Innovation and Development Reporting grant. In October 2015 she was awarded a new grant, under the same scheme, for the investigative project SEEDcontrol, focused on the seed market. She is also part of the investigative team behind the project Hearing Voices, funded in 2015 by the JournalismFund.
Since October 2015 she has worked with the Google News Lab as Media Training Specialist for Italy.